Established in 1966
Water Resources International, Inc. was founded in 1966, the CEO and President is Lowell E. Foletta. He is known as a pioneer in the water industry nationally and internationally. Originally from Modesto, California, the city known for its farming community and a sign that stretched across one of the original streets that reads: "Modesto – Water – Wealth – Contentment and Health". The president and his team at WRI are proud of manufacturing the best and ultimate complete in-home water treatment equipment. The water treatment equipment manufactured for residential and commercial use, for distributors here locally and throughout the United States.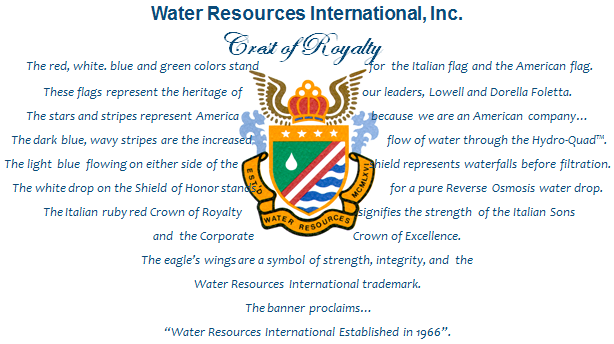 For 45 years our "Mission Statement" has been and will continue to be to provide premier quality water treatment products and customer care to a national and international market. The company philosophy creates a Commitment to Excellence in service and quality to our customer utilizing the highest degree of professional and ethical conduct and to provide an environment that promotes working together for PROGRESS, UNITY and SUCCESS.
As a modern manufacturer we offer the most advanced and proven products and our goal is to be the "Peoples Choice" for soft condition water for the homeowner. Arizona Environmental Progress proudly sells and installs the Hydro Quad® as the distributor for Arizona for Water Resources Int'l. Contact us to learn more about our product and how it provides you with pure clean water. 1-800-778-4420 or 602-276-7600
Lowell E. Foletta and his wife Dorella made Phoenix, Arizona their home when they moved here in 1970. Their 3 children joined the company after graduating from U of A and ASU, Nadine, Mike and Nicole to expand the company and contribute to WRI and their father's dream.
Toll Free: 1-888-778-0158 Ext. 221